Winter magic 2021
RAB PTA's Winter Magic 2021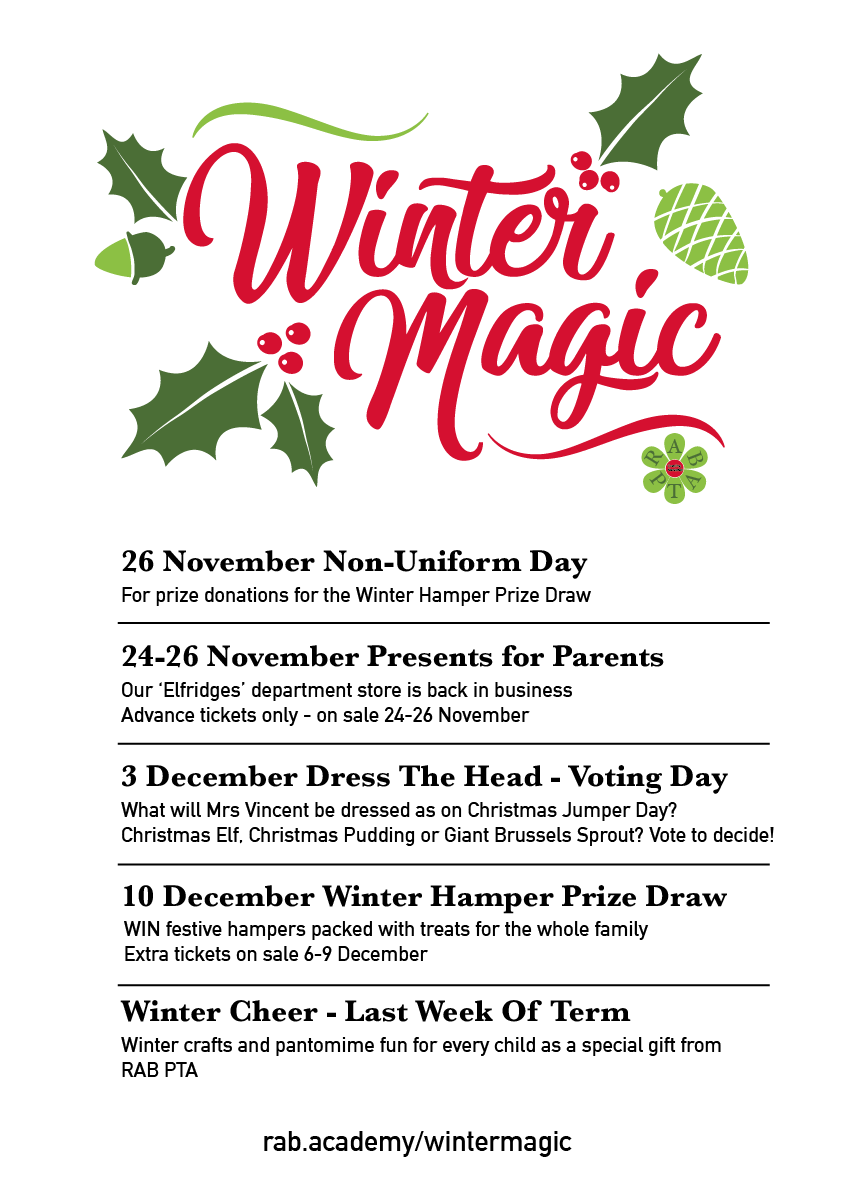 First, the bad news. Against the backdrop of ongoing Covid restrictions and uncertainty, RAB PTA are unable to go ahead with the Winter Fayre this year – traditionally our biggest fundraising event.
And now for the good news: like Santa's elves, we've been hard at work pulling together new plans to sprinkle some winter magic over the weeks to come!
WINTER MAGIC ROUND UP
Read on to find out more about all our fantastic Winter Magic events...
Hamper Donations Day
Fri 26 November (non-uniform day)
Mon 6 until Thu 9 December - Extra tickets on sale
Fri 10 December - Prize Draw
Top Prize: Luxury Hamper filled with gifts to make the season sparkle
Plus 20 Runner Up Hampers packed with treats the whole family can enjoy.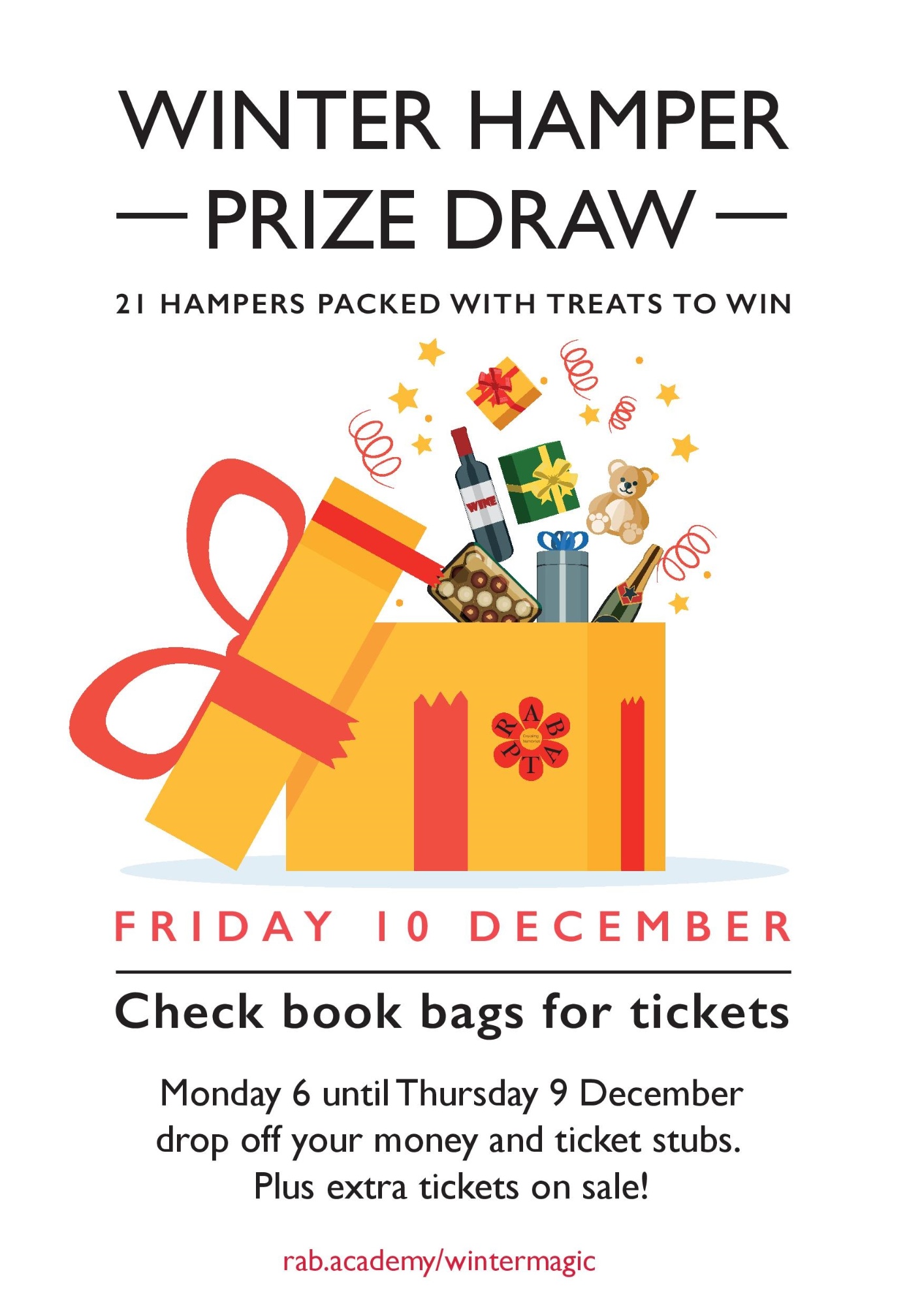 We've taken a Winter Fayre highlight, the hamper raffle, and turned it into the main event. With your help, here's how it works:
On Fri 26 November, we offer a non-uniform day in return for some lovely donations of chocolate, foodie treats, bottles, toiletries, festive fun and small children's toys - the kinds of gifts you would love to receive in a hamper. One quality gift per family would be wonderful.
Our team of Winter Sprites get busy creating 21 fantastic hampers, each one guaranteed to bring a smile.
We'll send prize draw tickets home in book bags for parents/grandparents/friends/neighbours to be able to share in the chance to win! Each ticket will cost £1 to enter. The more tickets you enter, the greater your chance of winning.
If you work for a local business, or know someone who does, and would like to donate something extra special to include in the hampers, we'd love to hear from you - please email us at rabutlerpta@gmail.com
From Mon 6 until Thu 9 December, we'll be in the school car park at pick-up and drop-off to collect your money and completed ticket stubs, along with selling extra tickets. If you don't come into school at these times, please hand an envelope labelled 'Hamper Prize Draw ' to your child's teacher or the school office, with the money and completed ticket stubs enclosed. Don't forget to add a name and contact details to every ticket stub! Any incomplete stubs will not be valid for entry.
All ticket stubs and money must be in by Thu 9 December. Prizes will be drawn on Fri 10 December. We'll make 21 lucky families very happy this holiday - it could be you!
This year, treat your child to a letter from a very special someone. Lives in the North Pole. Has a reindeer with a red nose. Any guesses yet? We've teamed up with Santa Letter Direct to help you bring some magic through your letterbox with a personalised letter from Santa.
We receive a whopping 25% donation of the value of anything you order via the RAB Santa Letter Link - without you spending a penny extra. With Santa Stamps, Videos from Santa, Christmas Books and more - all personalised for your child - there are so many ways to give them the best Christmas ever with a special message from the big man himself!
Word of warning: it's a busy time for Santa so make sure you get your orders in by the beginning of December to be sure he'll have time to send all his letters and cards.
Dress The Head! Vote for Mrs Vincent's Crazy Christmas Costume – Fri 3 December
This Christmas Jumper Day, Mrs Vincent will be looking fabulous in a Christmas outfit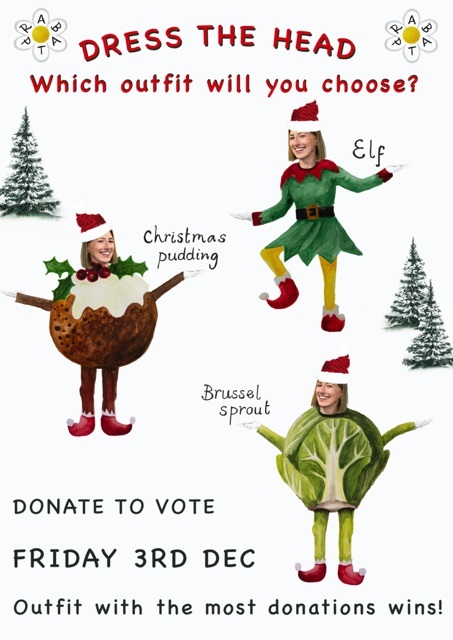 chosen by all her lovely students! Every child will get the chance to vote for their favourite crazy Christmas costume by dropping a donation into our voting buckets. The outfit with the most donations wins. And Mrs Vincent will wear her new 'uniform' on 15 December - all day! Will she be a Christmas Elf, Christmas Pudding or a Giant Brussels Sprout?! Only you can decide! Voting day: Fri 3 December only. Recommended donation £1.
Presents for Parents
tickets on sale Wed 24/ Thu 25/ Fri 26 November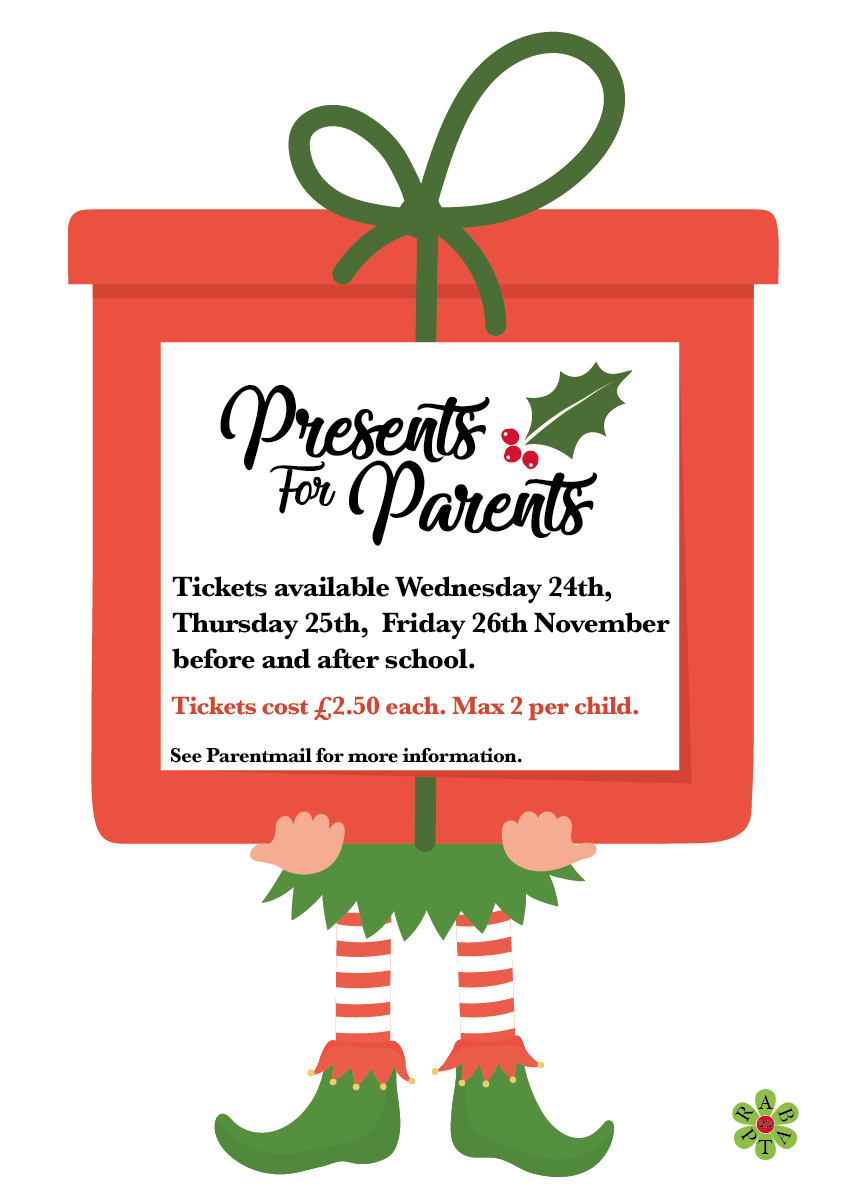 Our RAB PTA department store, Elfridges, is open for business again this December. Pre-purchase advance 'tickets' for your child to enable them to choose their own gifts from a fantastic range of presents suitable for mums, dads, aunts, uncles and grandparents - teaching them the gift of giving.
Tickets cost £2.50 each with a max of 2 per child.
Tickets will be on sale at school gates during drop off and pick up on Wed 24-Fri 26 November ONLY. Strictly no ticket sales after Fri 26 November so we can manage stock.
For those at Early or Late Play, please send your money in a sealed envelope clearly labelled 'P4P' with your child's name, class and number of gifts (max 2 gifts per child).
Presents for Parents is our much-loved annual event where we create a personal shopping experience at an outdoor stall for children to enjoy selecting their own gifts for relatives.
We don't hand out real tickets for this as they can get easily lost, instead we add your child's name to the Shoppers' Register with the number of gifts they have 'purchased'. Those children who are signed up for the event will get present labels to decorate in class in advance and bring with them when they visit the store.
Once they've chosen their gift they take this to be wrapped and sealed with their personalised labels so they can keep it a secret. The gifts are then taken back to the classroom to be stored by the teacher, who will send them home with your child at some point that week.
Children will be visiting our store throughout the school day on Mon 6 and Tue 7 December.
RAB PTA are delighted to treat every child at RAB to a little festive fun – during the last week of term, we'll be delivering special craft packs to each class with everything they need to make a winter decoration they can take home with pride. And we're thrilled to announce the return of panto season at RAB entertaining Y1-Y6 with a hilarious new filmed performance of Sleeping Beauty, whilst our lucky Reception classes will enjoy the madcap energy of local legend Calamity Clown in a specially filmed festive production.
If you didn't try our Christmas Treasure Hunt from last year, now's your chance. Designed to help your mini adventurers take a fresh look at some of our best loved places - you'll be going on a numbers hunt around Saffron Walden. There are 11 locations to find and once you have all your answers your super sleuthers will need to sharpen their wits to crack the code and reveal the final answer.
We've got two treasure hunts for you to try: for KS1 (4-7 years) and for KS2 (7-11 years). You can do them both together for maximum family fun across your different age groups. We've also provided a handy map to ensure you get to the right place. Just be careful, when you print these, the Adult Helper Guide will print first revealing the answers - so keep that close to hand and out of sight!
Join RAB PTA on Facebook
Stay up-to-date by joining us on Facebook for information, reminders and festive fun.
Sign up for easyfundraising
Easyfundraising is a fantastic way to raise money for a good cause by getting participating retailers to donate to RAB PTA as you shop online as normal. Once you've registered and have set up the easyfundraising mobile app or the web browser add-on, you simply shop with your favourite online retailers and we receive a donation automatically calculated and transferred to us as if by magic! And by using this link, we will receive a generous £15 donation boost when you earn your first £15. There are hundreds of retailers who are signed up across a wide range of sectors - it's the easy way to support our school. Find out more and sign up now.
A massive thank you!
We love making our children and families at RAB smile. It's been another Covid-crazy year and we're sad not to be able to run some of our best-loved family events. A big thank you from all of us for your support, helping to make a real difference to our lovely school